'Dream' internship gives IC student hands-on field experience
8.11.2020
Marching out into the wetlands of Indiana Dunes National Park, while wearing snowshoes and hip waders in the summer heat, is a dream come true for Molly Gearin '21.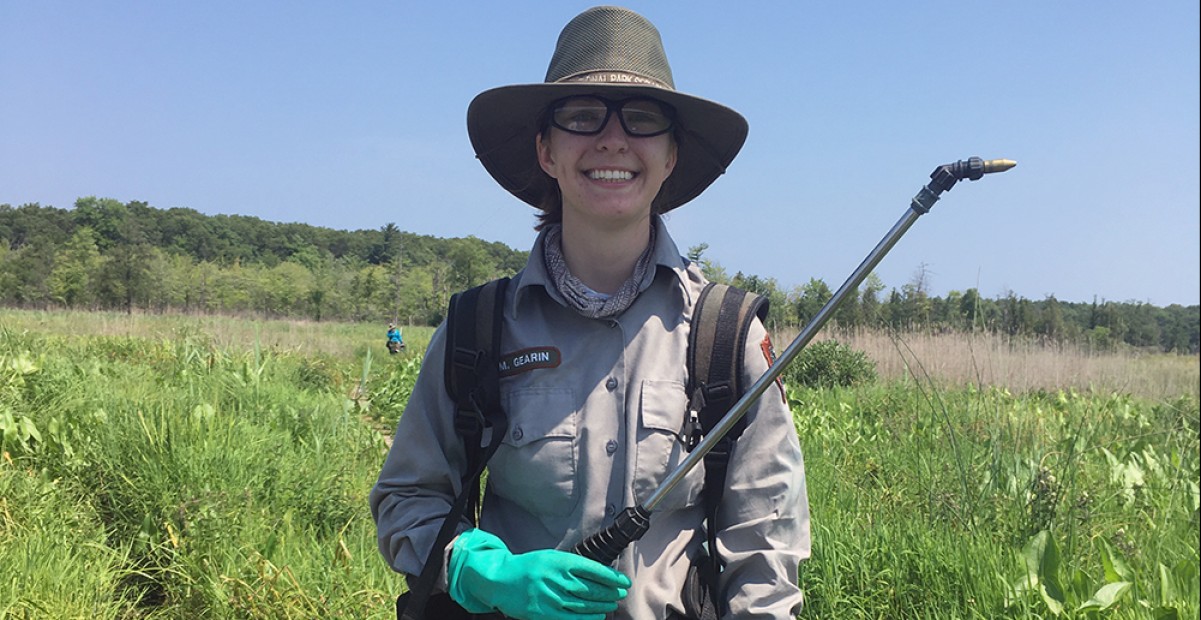 Gearin was able to go forward with her four-week internship with the National Park Service despite the pandemic, with a few adjustments like social distancing and masks. She was grateful for her time on a wetlands restoration crew in the park's natural resources department, working with botanists and biological technicians. 
"I'm just glad I could come," she said.
Gearin has been working toward this internship for a long time. She first got involved with the National Park Service as a Junior Ranger, then as a volunteer and eventually as an employee through the agency's Pathways Program. It's been "amazing," she said, "to be here and do exactly what I wanted to do. And to experience how difficult it is, but how rewarding it is."
Always interested in nature, she fell in love with the National Park Service at an early age  — the Ulysses S. Grant National Historic Site is near her home in St. Louis. She still works in maintenance at the park when she is home, cleaning bathrooms, mowing, cleaning the museum and house, and maintaining the property. When she inquired about internship opportunities, the staff asked her what her dream internship would be at another park in the Midwest region, she said, adding, "And then they sent me there and I got the dream that I wanted."
Gearin plans to pursue an advanced degree after finishing her undergraduate education, but wanted to have hands-on experiences to learn more about where she can take her passions. Learning in the classroom and beyond, environmental studies students graduate from Illinois College prepared for a wide range of careers from policy, law and advocacy to research and conservation. Faculty-led trips to places across the country, student-faculty research and internships offer experiential learning opportunities for students. 
Gearin's internship is among a list of high-profile internships IC environmental studies students have held, including the U.S. Fish and Wildlife Service, the Illinois Department of Natural Resources, the St. Louis Zoo, the U.S. Department of Agriculture, The Nature Conservancy, the Illinois State Museum.
"I really wanted to see what working in my field would be like," she said. "I was able to meet people that are more like me than I've ever met before. I can be doing work that basically makes me happy and see why I wanted to study what I wanted to study. It's all the environmental studies coursework I've learned, but applied in the real world."
Gearin spent a month backpack spraying herbicide on invasive plants, like cattail and purple loosestrife; collecting native seeds for processing and eventually spreading; planting native plants propagated in a greenhouse; and maintaining the boardwalk used to get across less accessible areas in the wetland. The team had to trek 45 minutes, walking on the boardwalk and snow shoes, just to reach one of the areas they worked on this summer.
"Basically we take our backpack sprayer out and we fill them on site with wells that are in the wetlands. We're wearing hip waders and snowshoes, and heading out into mud and head-high plants — and not coming out until the end of the day," she said. "It's pretty intense work, but I love it."
The experience didn't disappoint.
"I just kind of knew what I wanted and it's been everything I wanted," she said.
To learn more about environmental studies and wildlife management at Illinois College, visit www.ic.edu/environmental-studies.