Student-faculty research amplifies voices in Jacksonville area
7.26.2021
An Illinois College student-faculty research team recently collaborated on two community-based research projects, working with Passavant Area Hospital and the Tracy Family Foundation.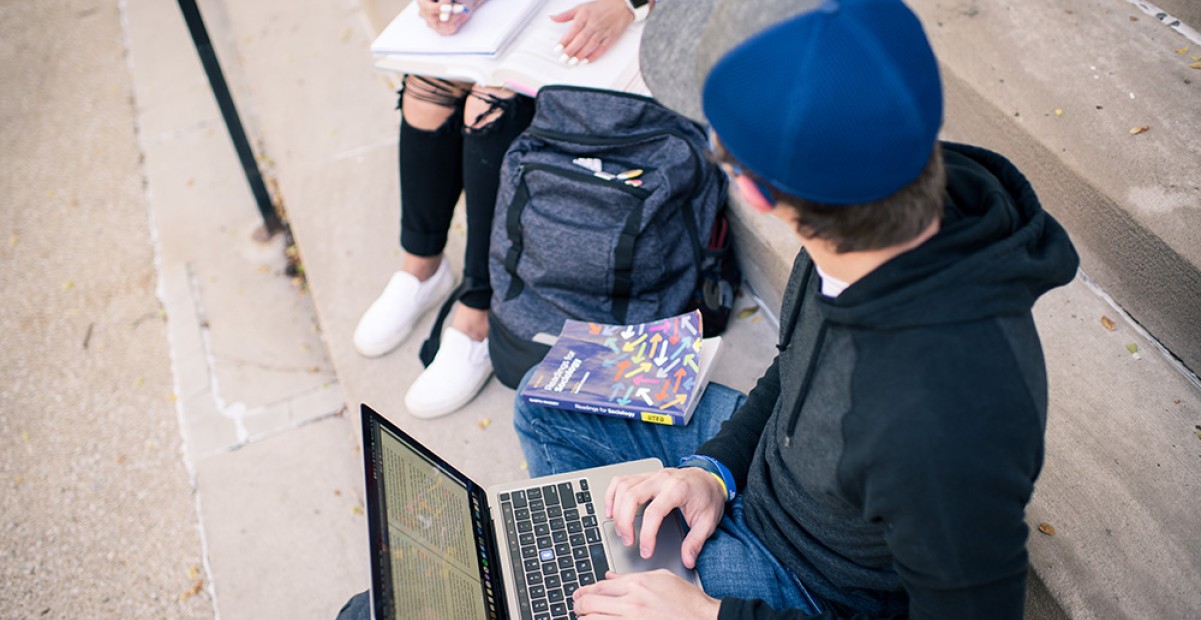 Mo Kermo '21, a criminal justice and sociology major and aspiring police officer, originally planned to spend last fall attending the police academy in St. Louis to prepare for his career. But like so many plans made over the last year, the pandemic postponed the opportunity. 
While Kermo was disappointed, the delay opened the chance for him to complete other work. He had just finished the first semester of a capstone course taught by Jaclyn Tabor, assistant professor of sociology, focused on social research methods and data analysis. 
Tabor had connected with community partners for help writing survey reports. She knew Kermo would be a great fit for the project. 
"It was a win-win," Tabor said. "Kermo's new availability, methods experience and need for a flexible course made him the perfect candidate for this experience." 
She said Kermo jumped at the chance to apply his new skills to a project that would benefit the Jacksonville region.  
"Doing this work let me see the real-world benefits of what I was learning. This was a unique circumstance where the public gets to voice their ideas and concerns directly to people who can help address the problems," he reflected. 
The survey, completed for Passavant Area Hospital in January 2021, measured the health needs of people in Morgan County. Kermo found that the top health concerns of respondents in the county were obesity, substance abuse, influenza, pneumonia and mental health resources. Many reported that they lacked insurance and cited the need for transportation and the ability to cover copays as barriers to wellness. 
The Tracy Family Foundation Survey Report focused on developing resources to help area youth. Survey questions revolved around extracurricular activities for youth that go beyond regular school instruction. Kermo found that community members, especially parents, wanted more activities to enrich adolescence. He also concluded that many lower-income families lacked financial resources and after-hours transportation to and from the school because both parents were working full time jobs. 
Kermo advocates for additional resources to help students from lower-income families and asserts that the benefits will be felt community wide by connecting youth to their neighbors and helping them feel a greater sense of belonging in Jacksonville. 
Kermo says he never really considered college growing up in Bosnia. His family relocated to the United States when he was a junior in high school. When he transferred to IC during his second year of college, he said he felt like he had finally found the right school. 
"The atmosphere is different here," he said this spring. "There is a sort of brotherhood with everyone that I've met so far at IC. I'm really enjoying my time at college now." 
With the help of his professors, Kermo has tailored his studies and experiences at IC to match his goals. Through IC, he landed an internship for credit with the Jacksonville Police Department, where he was able to ride in a squad car and shadow police officers as real policing scenarios played out in front of him. The experience, along with his coursework, has taught him about the kind of police officer he wants to be.  
"Being at IC, taking the courses and having the experiences that I've had — honestly it has opened my eyes to a broader perspective," he said. "I've always been interested in the field of criminal justice and working with the community. That interest has grown at IC." 
Kermo says both reports have given him insight into the complex issues facing citizens in Jacksonville and the surrounding areas. One of his biggest takeaways: "A lot of people just want to see more change happening within the community." 
For Kermo, applying his studies to complete the research provided powerful insight about the real issues people face daily. It's something he strongly believes will make him a more compassionate and informed police officer. 
"I really want to be the kind of officer who creates connections throughout the community," he said. "The law enforcement community is going through a big change right now and a lot of things are being questioned. It's an opportunity for us to get better and come together with the community."
To learn more about the sociology program at Illinois College, visit www.ic.edu/sociology, and visit www.ic.edu/criminal-justice for more information about the College's criminal justice program.