Twyford BBQ named official food truck of ICVC
7.23.2019
Illinois College has announced that Twyford BBQ will serve as the official food truck of the Illinois College Varsity Club during the 2019-2020 athletic season.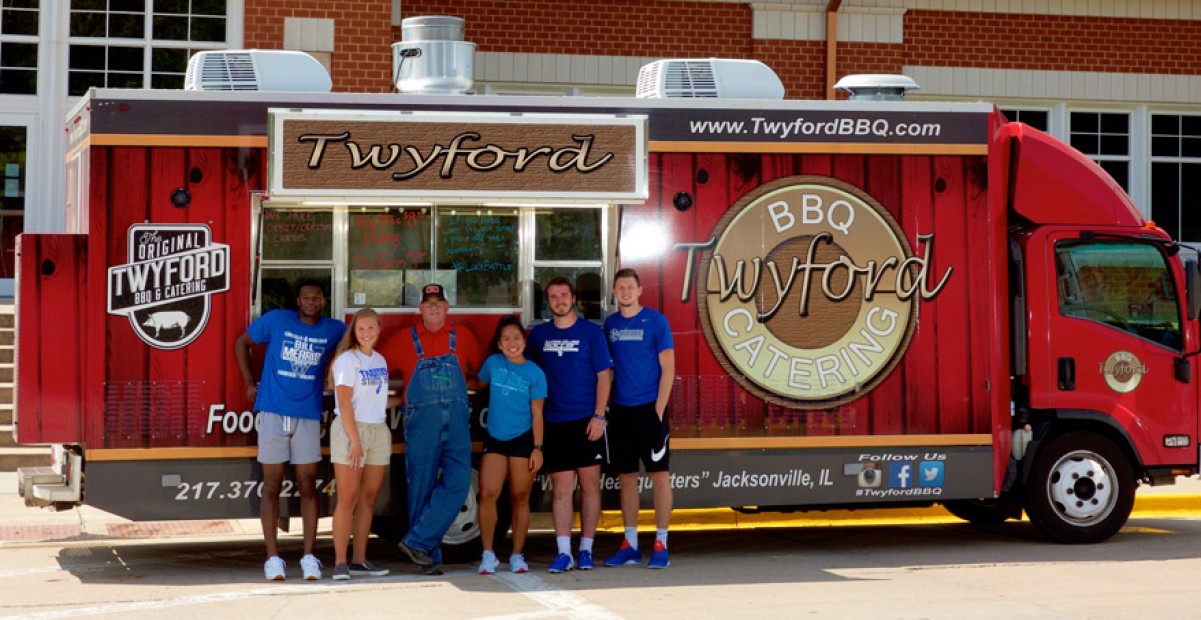 Annual donations to the IC Varsity Club strengthen Illinois College athletic programs by supporting daily operations for each of the College's 24 athletic teams. By joining ICVC, members support world-class facilities and competitive experience for nearly 500 student-athletes. 
During the upcoming athletic season, ICVC members will have access to special areas with complimentary food and drinks at Illinois College sporting events throughout the year. Twyford BBQ will offer a variety of food options from their menu at several of these events. The Jacksonville-favorite is known for their award-winning barbecue including chicken, pork, ribs and brisket, as well as their sides, desserts and creative menu items like pulled pork nachos. 
Randy Twyford, who owns the business with his wife Marla, said that barbecue and sports are a natural pairing. He is looking forward to being a part of the game-day atmosphere and building connections to IC. 
I think our partnership with Illinois College has been great and will continue to grow. This is really a situation where we both benefit, and I am happy to see where it goes.
According to head football coach Ray DeFrisco, Twyford BBQ has provided meals regularly for his team over the past three seasons.
"I love seeing his truck parked outside the field on game day," said DeFrisco. "Not only has he been feeding the team over the years, but has been hiring our football players and providing a part-time job."
Twyford hires Illinois College students from all areas of the College. He said he has been continuously impressed with their work. 
"I have no idea how IC does it, but the College teaches such good people skills. The students we have working for us — whether they are from the football team or debate and speech or any area — the people skills they have are just incredible," said Twyford.
Katie Carls, director of business development and campus events at IC, said this announcement is part of the overall expansion of the IC Varsity Club. 
Several new levels of membership will also be offered this year with benefits that include IC apparel, a monthly IC athletic newsletter and sponsorship recognition in IC's annual athletics golf outing. Carls hopes to continue to partner with local businesses and organizations. 
"Twyford BBQ has always been a big supporter of Illinois College and it was time to officially welcome them as part of the IC family," she said. "We are excited about this partnership and looking forward to having them on campus supporting our students, faculty, staff and alumni throughout the year."
For more information about joining the Illinois College Varsity Club please visit www.ic.edu/icvc or call the Office of Development and Alumni Relations at 217.245.3046. To learn more about partnership opportunities with Illinois College for your business or organization, contact Katie Carls at 217.245.3112 or katie.carls@ic.edu.