In the News: Cuba is a land of opportunity
7.19.2018
Graduate Christian Flores '18 shares perspective gained during recent BreakAway trip to Cuba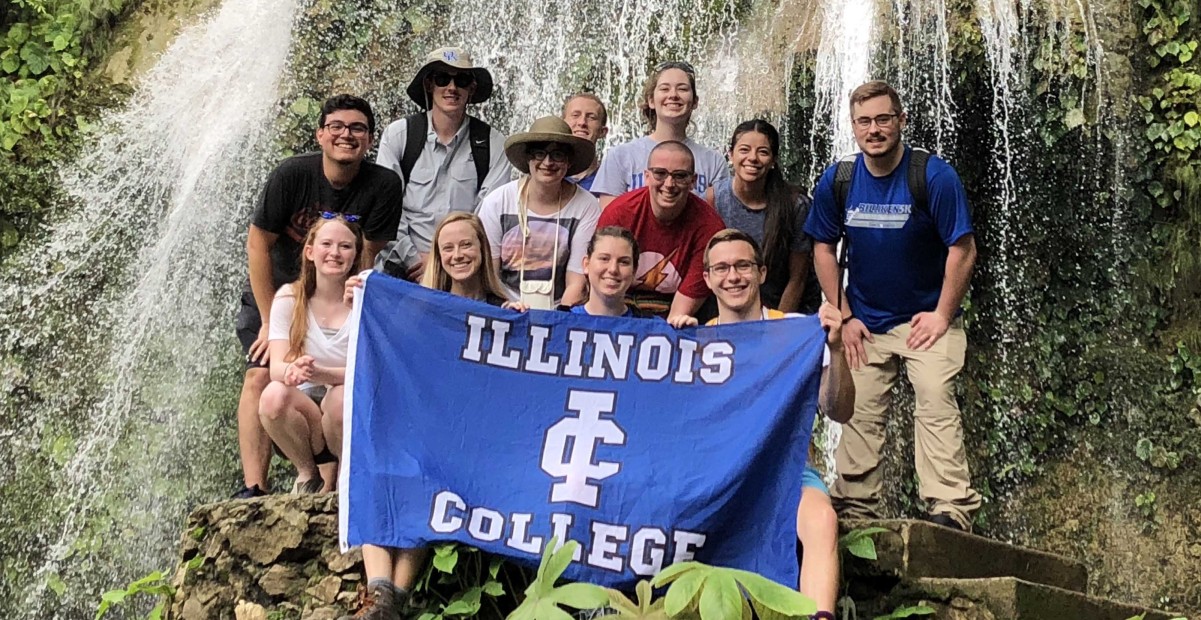 By Christian Flores '18, Commentary
Posted in the Jacksonville Journal-Courier on July 17, 2018
Recently, I had the opportunity of traveling to Cuba with Illinois College through a travel-study program focused on healthcare and ecology.
Until recently, few Americans were able to visit Cuba due to the travel restrictions in the embargo. Most Americans only know the media portrayal of Cuba as a poor and repressed country.
My conversations with students at the University of Pinar del Rio's Medical School revealed a different image, however. I discovered not a poor and desperate country, but an island rich with opportunities.
In Cuba, we spent four days studying orchid and bat conservation in Guahanacabibes; three days touring Havana; and one week at the University of Pinar del Rio to learn about the healthcare system. We met students from all over the world who came to study in Cuba, including students from Venezuela, Suriname, Guyana, Fiji, Grenada and Nigeria. They talked about coming to Cuba with optimism and gratitude.
Sara, from Suriname, explained that the resources to become a doctor were limited in her own country. In Cuba, she could become a general doctor in six years, return to her country to practice medicine and go on to specialize as a surgeon anywhere in the world. Cuba was helping her achieve her dreams.
Nestor, from Venezuela, spoke about Cuba proudly, almost as if speaking about his own country. He expressed how overwhelmed he was by the generosity of Cuban people, "Cubans give you all they have, not just what's left-over. They welcome foreigners to their nation with open arms."
It seemed true that Cubans valued community and universalism above all else. Keila and Leo, two English students from the liberal arts campus, treated us as family and took us to explore their city, despite being in exam week. Alicia and Sonia, two female entrepreneurs, talked about working on Cuba's literacy campaigns in their youth, so that everyone in Cuba could read. Doctors at rural polyclinics proudly provided for the communities most in need, despite the rigor. Nieves, a Cuban medical student, was proud of becoming a doctor in Cuba. "I cannot imagine what it's like to live in your country, where doctors only care for patients if they can pay."
Cuban doctors valued their work differently, which shocked our American pre-medical students. While Americans pitied the poverty of Cuba, Cubans pitied a different kind of poverty in the U.S.
It's an interesting contradiction. Walking through Pinar del Rio, buildings were deteriorating, streets were filthy, people worked hard for little money, and stray dogs littered the sidewalks. When I asked students about poverty, one student, Wilmer, argued, "Cuba has eradicated illiteracy and infant malnutrition. It may seem poor, but has among the lowest infant mortality rates, the highest education indexes, high life expectancy, and universal access to healthcare." Gregori, another student, explained "In spite of poverty, Cuba exports more doctors to nations in need than any other country. While the great powers mobilize troops, Cuba mobilizes doctors and educators to make the world a better place."
This made me think about the opportunities Cuba had to offer. By combining our knowledge and resources, Cuban and American scientists had an opportunity to preserve the endangered ghost orchids and funnel-eared bats. Through intercultural exchange, we had the opportunity to think critically about our nations and discuss our flaws and merits, our futures and freedoms. We were also able to see how Cuba is contributing to the world through healthcare and education. These opportunities were available despite the U.S. embargo that has impoverished the Cuban people.
Cuba is not yet a free nation, but it is changing and with increased engagement it becomes freer. If this is what Cuba can do with few resources, imagine the potential with political liberties and a thriving economy. For too long we had missed these opportunities to cooperate and engage.
We deny the world even more opportunities by continuing the embargo.
Christian Flores is a graduate of Illinois College, where he majored in history, political science and Spanish. He was recently awarded a Fulbright Scholarship to teach English in Brazil next year.