Illinois College community mourns Merris, an IC legend
6.15.2023
The longtime coach, professor and director of athletics maintained strong ties to his alma mater throughout his life.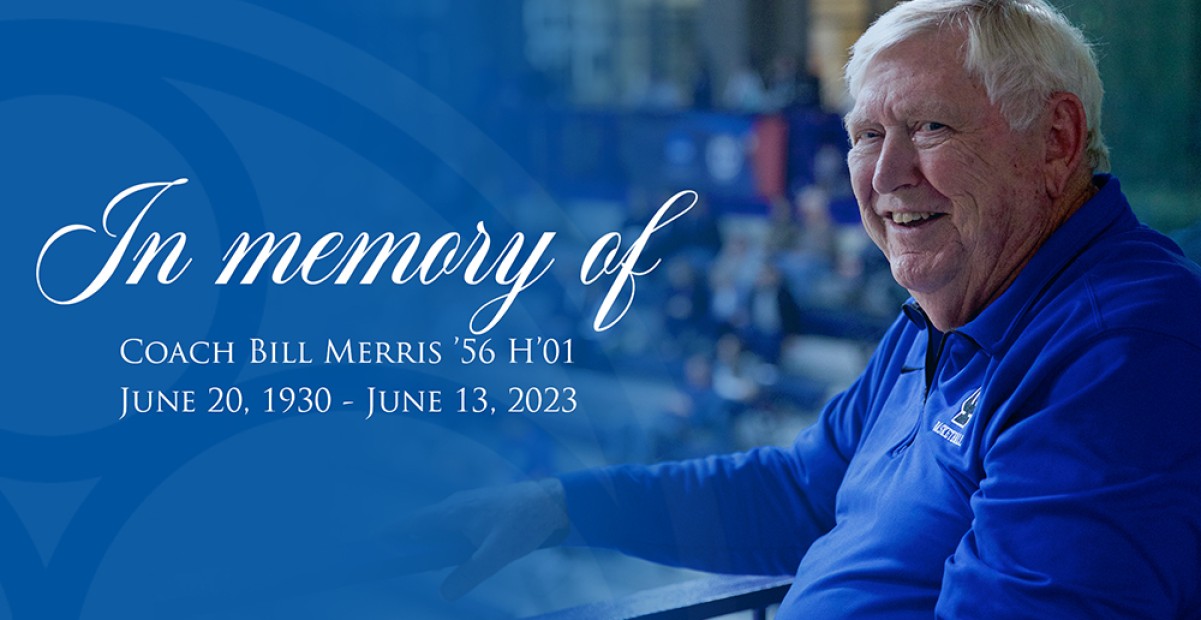 William D. "Bill" Merris '56 H'01 once said: "I think the people are what make IC unique. The people at Illinois College are the most important part." 
 
For countless students, staff, faculty and friends, Coach Merris embodied the kind of special, life-changing people that are found at Illinois College. The beloved coach and storyteller died on June 13, just a week short of his 93rd birthday on June 20. 
Merris' connection to Illinois College began when he was a student. He graduated from Bluffs High School in 1948, but didn't go to college immediately. Instead, Merris joined the Air Force and served as a teacher and an airborne radio operator. 
He was later inspired to attend IC where he represented the Blueboys as an all-conference basketball and baseball player. As a student, he worked as the sports editor of the Jacksonville Journal Courier newspaper for a year. He graduated with a degree in economics and physical education in 1956 and worked briefly at the Illinois School for the Deaf and Brown County High School in Mt. Sterling. Merris returned to his alma mater as a coach and teacher in 1958. He later earned a master's degree from Northern Illinois University. 
Merris had a career as a coach and associate professor of physical education for more than 40 years at IC. He became athletic director in 1998. Merris is best known for his 38-year tenure as the head coach of men's basketball. At the time of his retirement, his wins accounted for half of those in the College's history since basketball came to the Hilltop in 1904. 
Some of Coach Merris' best teams were in the 1970s, and during those years he said that IC could compete against any small college in the country. He maintained close ties to those players, often sharing his memories of them. He notably described Illinois College Board of Trustees Chair Steve Mills '77 as "a playmaking guard." 
"When I think about the players of the (70s) decade, I always think of Steve Mills. Steve was very steady and a team leader," Merris once wrote. 
Merris also coached football as an assistant to Joe Brooks for 28 years, and served as head coach of men's tennis for 20 years. Merris had shorter stints coaching baseball, track and field, women's basketball, and golf. During a 2020 interview, he reflected on stepping in wherever he could help. 
"I took track for a while," Merris recalled. "The current coach left and the president at the time said IC couldn't afford to hire a track coach and they thought of dropping the sport. I said, 'No, I'll take it.'" 
Merris said that coming to the Hilltop everyday never felt like work. He happily juggled overlapping practices and competition schedules, doing all he could to ensure that the athletic programs at IC grew, often calling on help from his IC staff. Merris was an advocate for women's sports; he enjoyed seeing opportunities for women grow during his lifetime. He loved collegiate sports in general and believed there was something special about the Division III level of competition. In a 2009 interview with Buford Green '64, he said: "Division III athletics brings kids together and allows them to be athletes and students and have good experiences. That is the basic understanding of what true college athletics is supposed to be."
Merris was honored as an Illinois College Hall of Fame Inductee in 1984, a Distinguished Alumni Award recipient in 1990, and a Faculty Ambassador Award recipient in 1997. He coached his final season of men's basketball in 1995-96, but remained on the IC faculty until his retirement in 2001. In August of that year, the headline on the cover of the Illinois College Quarterly magazine proclaimed: "A legend retires." The Jacksonville Journal Courier called it "the end of an era."
Merris delivered the 2001 commencement address and was awarded an honorary Doctor of Humane Letters degree during the ceremony. At the time of his retirement, he was the College's longest serving faculty member, the faculty marshal and the chair of the physical education department. Through 2015, he continued to serve the IC education department by mentoring and supporting future physical education teachers.
Even in retirement, Coach Merris remained a regular — often daily — visitor to campus and a dedicated fan of IC athletics. The playing surface of Sherman Gymnasium in Bruner Fitness and Recreation Center was officially named the Bill Merris Court in 2008. 
Merris published his autobiography, "Let Me Tell You a Story," in 2011 in which he recounted his legacy in college sports, putting to paper many of the stories he loved to tell about his time at Illinois College, the players he coached and all the people who helped him along the way. His dear friend Amy Wilson '93, who met Bill as a student and later worked alongside him as a member of the IC faculty, helped edit the book and wrote the preface. 
Merris dedicated his book to his late wife Marilyn Hurley Merris '64, whom he met at IC and wed in 1963. Marilyn was a teacher at Routt Catholic High School in Jacksonville for many years. When she died in 2003, Merris established the Marilyn Merris Endowed Scholarship in his late wife's honor and later began the Bill and Marilyn Education Program Endowment. The endowment has allowed hundreds of students in the Jacksonville community to receive tutoring and helped IC establish its Tomorrow's Teachers Program. 
Bill once said that meeting Marilyn and the many friendships he made while on the Hilltop were the highlights of his Illinois College career. Another of the close friendships he formed on the Hilltop was with Katie Carls, now executive director of the Office of Advancement and Alumni Engagement. Carls met Merris when she joined the Illinois College staff in 2014.  
"Bill considered himself a lucky person, but I believe that we are lucky to have known him. He achieved a level of success at IC that may never be matched — not for the number of wins he had, but for the number of people he impacted. He will long be remembered for his humor, his stories and his generous spirit. The love he had for his alma mater and the support he gave to this community cannot be overstated." 
Carls says she looks forward to continuing to hear stories about Bill, adding that "you can't go anywhere in Jacksonville and not run into someone who knew Bill." 
In a 1992 interview, when asked how he would like to be remembered as an IC coach, Merris answered: "I would hope to be remembered as someone who tried hard, worked hard, was fair and tried to get along with everyone — the faculty, students, staff, all the way down the line."
Merris continued to be an engaged alumnus and active supporter of the College in recent years. He could be found on occasion volunteering in the Alumni House to make phone calls asking people to join him in supporting IC athletic programs. Each year, the College hosts a tournament in his name that he often attended. He was in the stands when the Blueboys won the Midwest Conference Men's Basketball Tournament this past February. At the time of his passing, he was also a member of the Sturtevant Society, the Illinois College Society and the IC Varsity Club.
Bill is survived by one sister, Donna (Robyn Huffman) Merris of Sandwich, New Hampshire, two brothers, Robert Merris '53 of Apple Valley, Minnesota, and Harold Merris '59 (Judy) of Mt. Carmel.
The family will host a visitation on Monday, June 19, from 3-7 p.m. at Williamson Funeral Home in Jacksonville followed by a private graveside service on June 20. In lieu of flowers, memorials are suggested to Illinois College Athletics, www.ic.edu/giving. 
Illinois College will host a Celebration of Life for Bill Merris at a future date. Bill's obituary can be read here. Condolences may be left online at www.airsman-hires.com.