Trustee Williamson remembered for leadership and giving spirit
6.11.2021
Illinois College is mourning the unexpected death of Trustee John M. Williamson '78 on May 13, 2021, at the age of 64.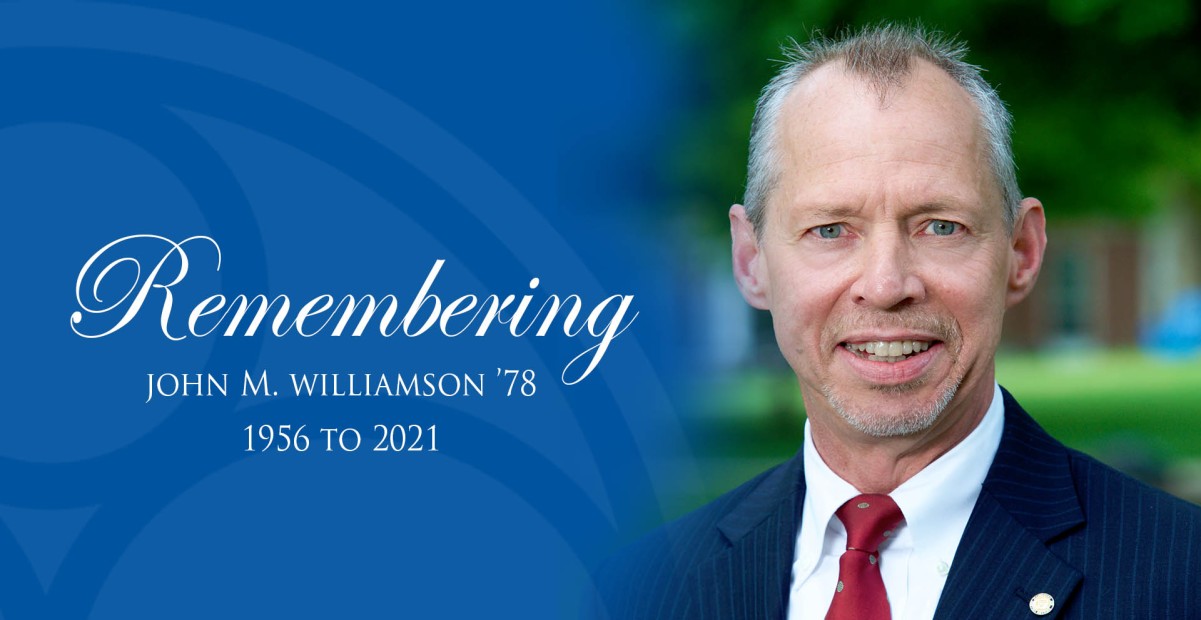 A campus memorial service is being planned for Oct. 23 at 11 a.m. in Rammelkamp Chapel.
Williamson is remembered for his passion for life, often seeking out new experiences in music, travel and learning. As a student at IC, he was deeply involved in Pi Pi Rho literary society and maintained close, lifelong ties to the late Dean Donald R. Eldred H'04, who was an honorary member. Williamson has long championed literary societies for the lessons he learned as a Rhoer and the valuable skills they help students cultivate. He was also a student-athlete, lettering in basketball and tennis.
After earning his degree in accounting, economics and business administration from IC, Williamson began his career at KPMG Audit Services in Peoria, Illinois. After a few years in that role, he relocated to San Francisco where he completed his master's degree in taxation at Golden Gate University. He became a managing partner at the financial firm Harb, Levy & Weiland LLP. He remained a leader at the firm through its merger with New York-based EisnerAmper in 2011 and was serving as partner in charge of the San Francisco office at the time of his death. 
Williamson was often recognized for giving back to the communities and organizations that impacted his life. Golden Gate University featured him in its book, Profiles in Prominence, which highlights accomplished alumni. The university also honored him with its 2012 Volunteer of the Year award to recognize his work in developing a free hands-on workshop that provides students professional experience in tax preparation. He served on the executive committee of Hedge Funds Care to prevent child abuse and neglect and on the board of Freight & Salvage Coffee House, a nonprofit music venue dedicated to promoting music and cultural awareness. 
In 2013 he joined the Illinois College Board of Trustees, bringing over 35 years of public accounting experience, financial expertise and organizational leadership to guide the College into the future. During his time on the Board, Williamson served as a member of the Inspiring Achievement Campaign Cabinet and Development Committee. He also served on the Finance and Audit Committee, Investments Working Group, and as Chair of the Audit Working Group. He was a charter and lifetime member of the Illinois College Society, providing philanthropic leadership to the community. Williamson was also a frequent guest speaker in accounting classes when he was on campus for Board meetings and enjoyed serving as a mentor to Illinois College students and alumni.
"The Illinois College community has been devastated to learn of John's passing," Illinois College Board of Trustees Chair Steven Mills '77 said. "Our thoughts are with his family and loved ones during this difficult time."
"John was not only a Trustee colleague of mine, but was a classmate, a basketball teammate, and a long-time friend. IC was an important part of John's life. We are grateful for his dedication to his alma mater and for his impactful life of leadership and service."
Williamson was from a legacy family at IC. Both of his parents, Arthur '51 and Marilyn Shaffner Williamson '52; brother, Jeffrey Williamson '75; along with several cousins are alumni of the College. Williamson's full obituary is available here.