IC science students awarded at statewide meeting
5.05.2021
Several Illinois College students were recognized for their student-faculty research at the 113th Annual Illinois State Academy of Science Annual Meeting held virtually on April 8-9.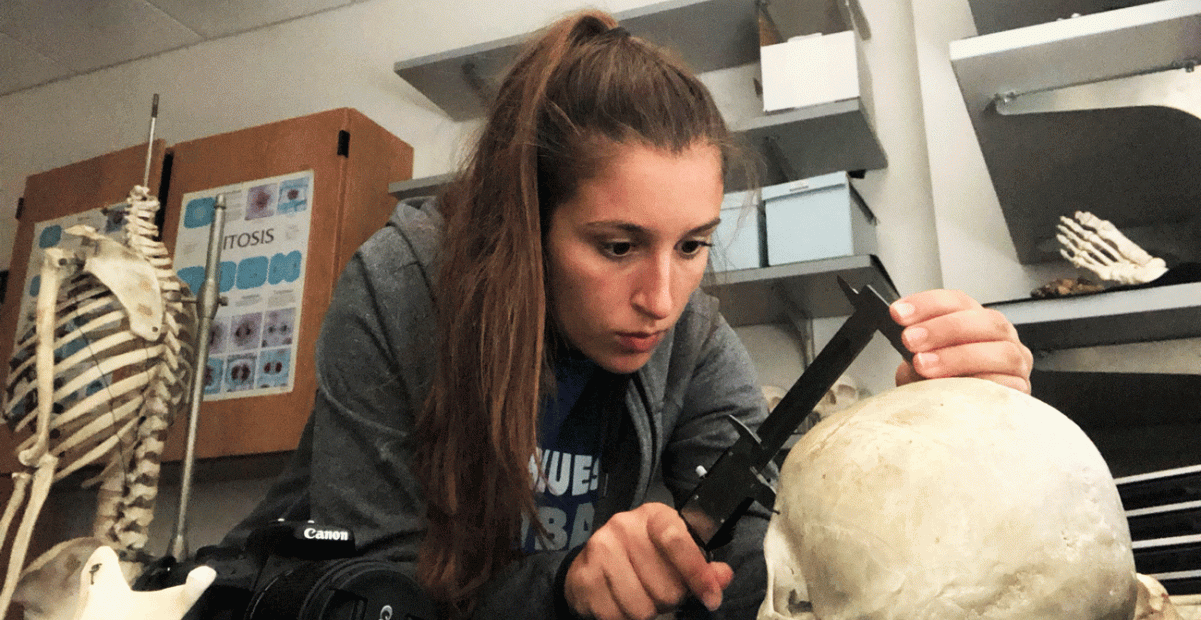 Faculty and seven students from IC took part in the meeting, presenting their research in a variety of scientific fields during the judged presentation sessions alongside representatives from other colleges and universities from across the state. 
Four students from Illinois College were awarded first place honors for their research and presentations in the various categories listed: Megan Price '21 (Anthropology and Archaeology), Charles Veith '23 (Botany), Alexis Paskach '22 (Chemistry) and Sam Killday '21 (Environmental Science). Other participants from IC were Sunday Bobori '21 (Chemistry), Molly Gearin '21 (Botany) and Senaf Fayissa '22 (Chemistry). 
Lawrence Zettler, Hitchcock Professor of Biology, said that every student who represented Illinois College at the event did an outstanding job under difficult circumstances. 
"Their work was even more noteworthy considering that they collected, presented and analyzed data during a difficult pandemic year," he said. 
Veith, an aspiring marine biologist, worked with Zettler on an ongoing research project centered on orchid conservation in the south Pacific with scientists at the Smithsonian Institution. 
He says they worked to grow the seeds of several different species of orchids from the archipelago Republic of Palau into adulthood, both with and without the symbiotic fungi they use as food. 
"Through this work, I have learned how important orchids are to the natural environment as a sort of 'canary in the coal mine' species," he says. "What I mean by this is that when orchids die out in an environment, it indicates something could be wrong."
Veith, an ecology major, adds that he has also learned a wide range of transferable skills including how to gather, apply and present data. 
Biochemistry major Paskach learned similar lessons, though her research was very different. The junior collaborated with Jocelyn Lanorio, assistant professor of chemistry, throughout the summer and fall on a study of organic chemical reactions. Because the ability to work in-person in labs was limited this year, they completed the project using web-based research tools. 
"I learned a great deal about computational chemistry," she said. "This experience has also provided me with the opportunity to work on my presentation skills to present scientific information in an effective manner." 
Another senior, Killday, partnered with Guy Sternberg, an adjunct faculty member who directs the Starhill Forest Arboretum. Together, they completed a survey of trees at the arboretum that lays the groundwork for future student-faculty research. 
The project gathered data on over 500 different trees and documented the circumference of each tree, a brief description of its location, GPS coordinates, and a picture of the tree to assist in finding the tree for a future survey. 
"A second researcher will be able to return to Starhill in the future, and follow in my footsteps and see how these historic trees changed," Killday explained. 
He says he is planning to apply what he learned on future research projects. He will soon start a new role with the U.S. Department of Agriculture to complete a survey studying Emerald Ash Borer. He hopes to have a career working in the public sector completing scientific research. 
Price, a senior biology major who plans to attend medical school this fall has been working on anthropology research in collaboration with Miranda Karban, assistant professor of biology, since the summer of 2018. She hopes to continue her work over the next few years. 
"I now have confidence in my abilities to conduct research that both piques my curiosity and answers real world problems," she said. 
The Illinois State Academy of Science is dedicated to the promotion of scientific research, the diffusion of scientific knowledge and the unification of scientific interests in Illinois. Illinois College will host the 114th Annual Meeting of the Illinois State Academy of Science in the Spring of 2022. 
Caption: Megan Price '21 conducts research on the human skeleton housed in Parker Science Building.