Celebration of Excellence held virtually for the first time
5.04.2020
Illinois College recognized academic achievement during the 10th annual Celebration of Excellence on April 24 and Honors Convocation on Friday.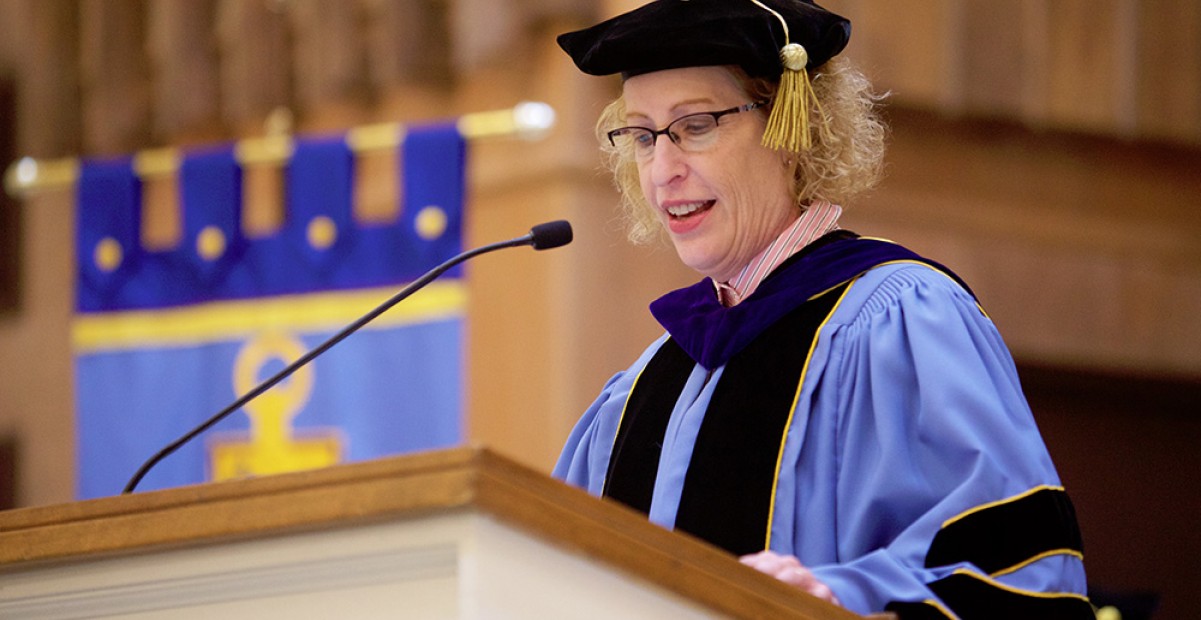 Held virtually for the first time, the celebration allowed students and faculty to take part in activities that commend academic excellence, a hallmark of the College since its founding in 1829.
"Their collective work demonstrates excellence in all areas of the College, and those being honored today have reached a level of achievement that is both inspiring and empowering," said President Barbara A. Farley. "Let this occasion serve as a reminder that although we cannot be together physically, we are still a connected community of scholars."
During the Honors Convocation, the ceremonial portion of the event, Catharine O'Connell, provost and dean of the College, offered remarks on the subject of excellence, after which five major awards for academic excellence, service and teaching were awarded to Illinois College students and faculty. The student marshals for the 2020-2021 academic year were named, graduates slated for induction into Phi Beta Kappa were recognized, and the Julian Monson Sturtevant Campus Leadership Award winners were announced. The Harry Joy Dunbaugh Distinguished Professor Award and the Don P. Filson Faculty Award for Vision for the Future were also presented.
Alonzo Ward, assistant professor of history, was presented the Harry Joy Dunbaugh Distinguished Professor Award during the convocation. This prize is considered the greatest honor bestowed upon an Illinois College faculty member. A student committee, with oversight from the dean of the college, selects the recipient each academic year. The selection process and identity of the winner is kept secret until the honors convocation. 
Ward credited some of his colleagues at Illinois College with helping him to develop as a professor. "Perhaps none of these professors realized it, but I was taking something from them," he said. "And if the culmination of my borrowing from them amounted to anything, I would say that each of them in their own way contributed to me getting this prestigious award. I thank all of you, I thank them and I'm really honored."
Sergio Pena '20 and Ayden Thomas '20 were chosen as student marshals for the next academic year. Marshals are chosen based on demonstrated academic excellence and campus leadership and will lead academic processionals held on campus throughout the year. This designation is considered one of the highest honors a member of the incoming senior class can receive.
Phi Beta Kappa is the nation's oldest and most distinguished honor society. One of only 11 colleges in the state to offer membership into this distinguished society, the Illinois College Epsilon chapter was founded by Charles Rammelkamp in 1931. Those inducted into Phi Beta Kappa were Akua Adu '20, Charlotte Crofton '20, Cameron Doerr '20, Sabrina Doyle '20, Luigi Erba '20, Anthony Hand '20, Katelyn Hodgson '20, Jakob Kording '20, Rabea Rachow '20, Cassy Roat '20 and Aurhianna Sandefur '20.
The Julian M. Sturtevant Campus Leadership and Service Award calls attention to a select group of students who demonstrate active campus service and leadership throughout their college careers. Those honored were Stacy Bile '20, Dominic Caldieraro '20, Charlotte Crofton '20, Nely Munoz '20, Natasha Polak '20, Rabea Rachow '20 and Brenda Ruiz '20.
The Don P. Filson Faculty Award for Vision for the Future was awarded to Samantha Sauer, archivist and curator of the Paul Findley Congressional Museum and assistant professor of history. This honor is awarded to faculty members who see beyond the scope of the status quo to further develop or implement a vision which can move the college forward. This faculty award was established by 1970 Illinois College graduate Darlene Nelson '70 in memory of Dr. Filson's vision which was for Illinois College to have a computer science department. 
Robert Kunath, William and Charlotte Gardner Professor of History, received the Enkyklios Award for exhibited excellence in the three areas the College considers in reviews: teaching, professional engagement and service. The award honors the rare ability of an individual to demonstrate excellence in all three areas within a single year. Recipients are nominated by faculty colleagues. 
The Celebration of Excellence featured more than 80 students remotely delivering 49 presentations on recent research efforts and demonstrating excellence in a wide range of academic fields.