IC grads write final chapter
5.15.2018
One by one, nearly 220 people walked across the stage of Illinois College, starting the journey as students and ending it as graduates. This year was about stories.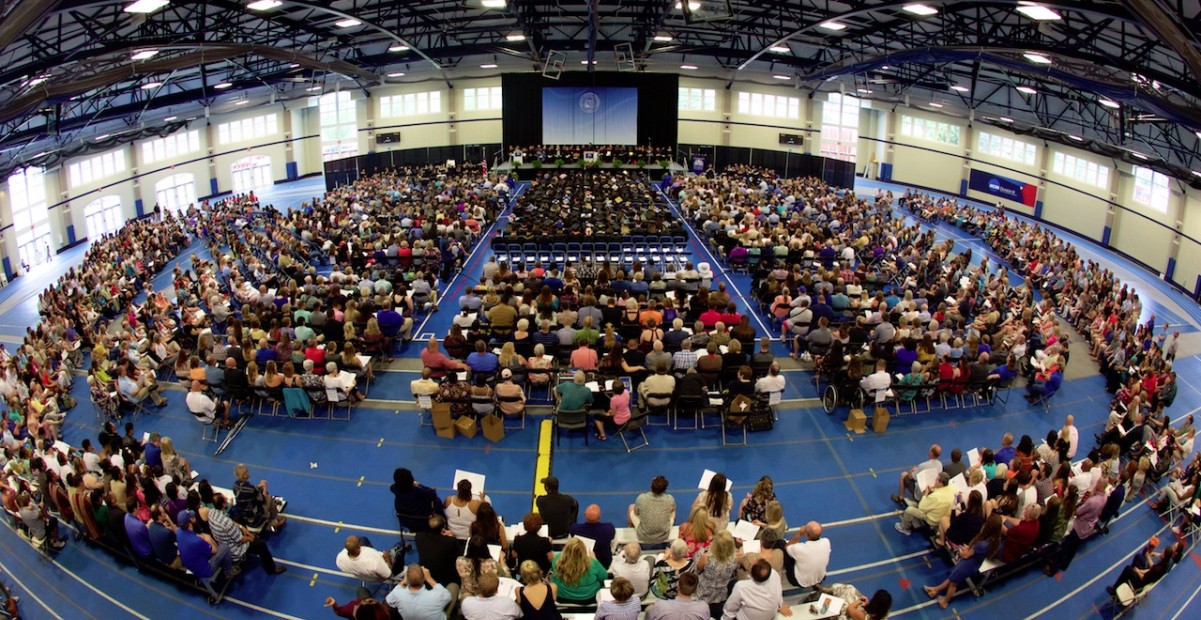 "At the opening celebration held at the beginning of each academic year, I preview for new students that Commencement will be the bookend event of their academic career at Illinois College," said President Barbara A. Farley Sunday at 184th Illinois College Commencement.
The 216 undergrad students were awarded bachelor's degrees this year as they ended this chapter of their lives. For some, like Justin Ketcham '18 of Jacksonville, they've already started the next chapter.
"I actually graduated in December, officially," said the business administration and finance major. "I've got a job with Edward Jones investments. I'm going to be a financial advisor."
During Sunday's ceremony in Bruner Fitness and Recreation Center on campus, IC conferred an honorary doctor of humane letters degree on Robert B. Thomson III. Thomson has been part of the Illinois College community throughout his life, as have several generations of alumni behind him, including his great-grandfather and grandfather. His mother is a strong supporter of education in the Jacksonville community and works with several literary societies.
Thomson himself was elected to the IC Board of Trustees in 2003 and served until May 2017. While on the board, he served as chairman of the Investment Subcommittee, which had responsibility for overseeing the Illinois College Endowment Fund. He was awarded an honorary bachelor's degree in 2009. He currently heads U.S. government relations for Visa Inc., and is responsible for advancing Visa's legislative and public priorities, engaging key stakeholder groups in government and the private sector, and providing leadership over all federal and state lobbying activities for Visa in the United States. Thomson earned his bachelor's degree from DePauw University and an MBA from George Washington University, where he graduated with honors.
The College's Dr. Kallia Wright was welcomed to the stage as the commencement speaker. Wright was the co-recipient of the Harry Joy Dunbaugh Distinguished Professor Award in 2017 and an associate professor of communication and rhetorical studies. Wright talked more about stories too, hoping sharing hers would inspire the graduating class to go forth and do the same. She also talked about how the graduates had come across others that helped to write their personal stories.
"During your time here at Illinois College, many individuals have stepped in to help you write and in some cases, rewrite your story," said Wright. "That influence has been life-changing for you. For some of you, it was a professor who introduced you to a field that you never thought you would like. For others, it was a meaningful conversation with someone from the athletics program, residence life, or career services."
Students said their final farewells after collecting their diplomas and are looking forward to what comes next.
"I'm really excited. Looking forward to the next steps in my life. It's going to be a lot of fun," said Nicole Bergschneider '18 of Greenfield.
For more images from Illinois College Commencement, visit our Facebook album. 
Illinois College Commencement 2018
1 of 23
Illinois College Commencement 2018
2 of 23
Illinois College Commencement 2018
3 of 23
Illinois College Commencement 2018
4 of 23
Illinois College Commencement 2018
5 of 23
Illinois College Commencement 2018
6 of 23
Illinois College Commencement 2018
7 of 23
Illinois College Commencement 2018
8 of 23
Illinois College Commencement 2018
9 of 23
Illinois College Commencement 2018
10 of 23
Illinois College Commencement 2018
11 of 23
Illinois College Commencement 2018
12 of 23
Illinois College Commencement 2018
13 of 23
Illinois College Commencement 2018
14 of 23
Illinois College Commencement 2018
15 of 23
Illinois College Commencement 2018
16 of 23
Illinois College Commencement 2018
17 of 23
Illinois College Commencement 2018
18 of 23
Illinois College Commencement 2018
19 of 23
Illinois College Commencement 2018
20 of 23
Illinois College Commencement 2018
21 of 23
Illinois College Commencement 2018
22 of 23
Illinois College Commencement 2018
23 of 23