Illinois College partners with Congolese immigrants for bilingual experience
5.14.2018
The bilingual interview project is an introduction for students to use French in a meaningful, authentic way to learn about another culture.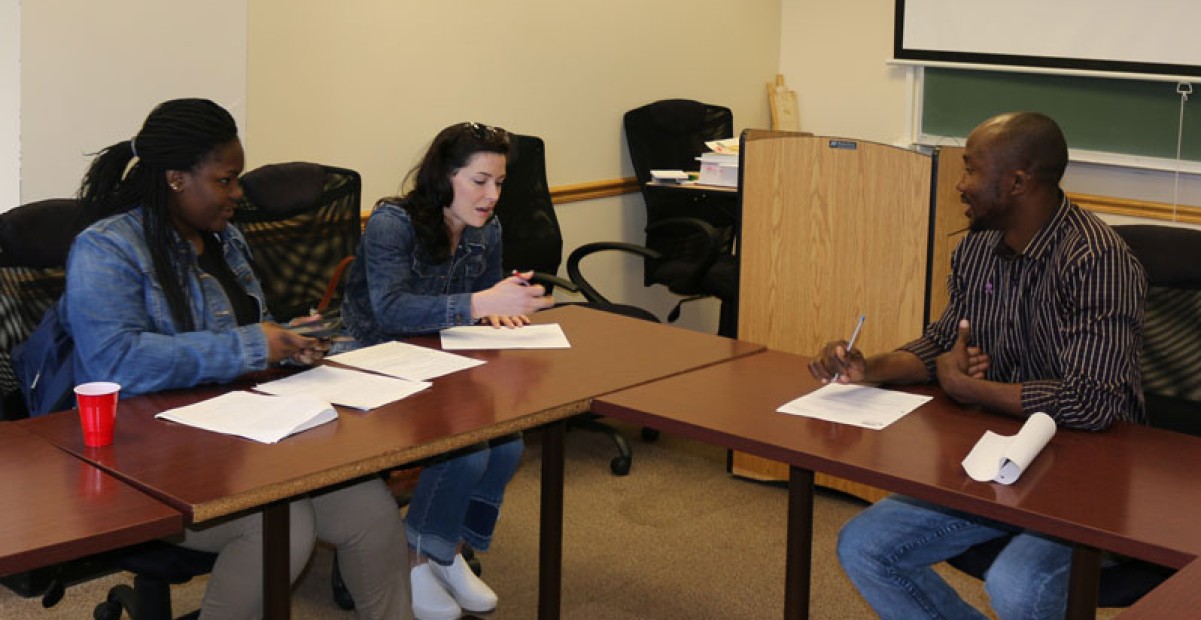 John-Christian Moore '20 began studying French in kindergarten as a way to feel connected to his French-speaking, Haitian grandfather, who he never met.
As a student at Illinois College, Moore never planned to continue his French studies in any significant way until an interview project pairing first-year French students with immigrants from the Democratic Republic of Congo changed his mind.
IC Assistant Professor of French Emily Adams and Associate Professor Devin Bryson developed the bilingual interview project as an introduction for students to use French in a meaningful, authentic way to learn about another culture.
"One thing that they really learn from this experience is that a quick Google search of Congolese culture isn't going to turn over very accurate information. Actually being able to start talking with real people can give a lot more insight into the culture and things like that. So it's kind of a first experience with it," said Adams.
The project developed out of an existing relationship between IC and the growing Congolese population in Jacksonville and is in its third year. 
The bilingual interview experience is meant to benefit students as well as immigrants, new to the United States, who often struggle with the language barrier. Students enrolled in French 102 prepare a set of questions in French and a set in English to conduct the bilingual interview.
Adams said that while many of these initial interviews stumble along in broken English and broken French, they give both sides a foundation for better understanding of a new language and culture. The experience also allows students to envision how their studies relate to the work they might do after IC. 
"This is how you actually get to know people. If you want to be able to engage in service with the community, you have to actually be able to talk to people," she said.
For participant Ian Gatlin '19, the interview was his first contact with the Congolese community. Although Gatlin recently traveled to Paris, where he was immersed in the French language, he said the bilingual interview required deeper thought than the simpler interactions he had in France. He said his greatest takeaway from the experience was a shift in outlook. 
"In America we tend to do a lot of complaining about very simple things. And then you realize that some people come here with a lot less, but they are extremely happy and grateful. It teaches you to be humble and question what's important and also helps put things in perspective," said Gatlin.
Moore, who now plans to minor in French, participated in a first-year seminar last semester, working with students from French 302 as interpreters to interview Congolese immigrants. DAdams said he was the only first-year student with enough French language knowledge to speak with his interviewee in French.
This semester, as an intermediate student, he serves as a mentor for other students learning to communicate in French. His experiences with the Congolese immigrant population has changed his global perspective, giving him a greater context for studying the language.
"I've learned about their culture and their life because you see a lot of stuff on the news, but you don't really get to talk to anybody about it. There's nobody that really knows what they're going through except for them," said Moore.  
Moore, like other intermediate students, is now paired with a Congolese immigrant through the Language Partners program for linguistic and cultural exchanges that span the semester. While the bilingual interview project serves as an initial encounter, the LP program is about building deeper relationships.
"I always remember there is something happening beyond here,"  Moore said.