Illinois College welcomes distinguished scholar
3.09.2018
Dr. Amy Cheng Vollmer will be on campus March 12 to speak about her work on bacteria and viruses.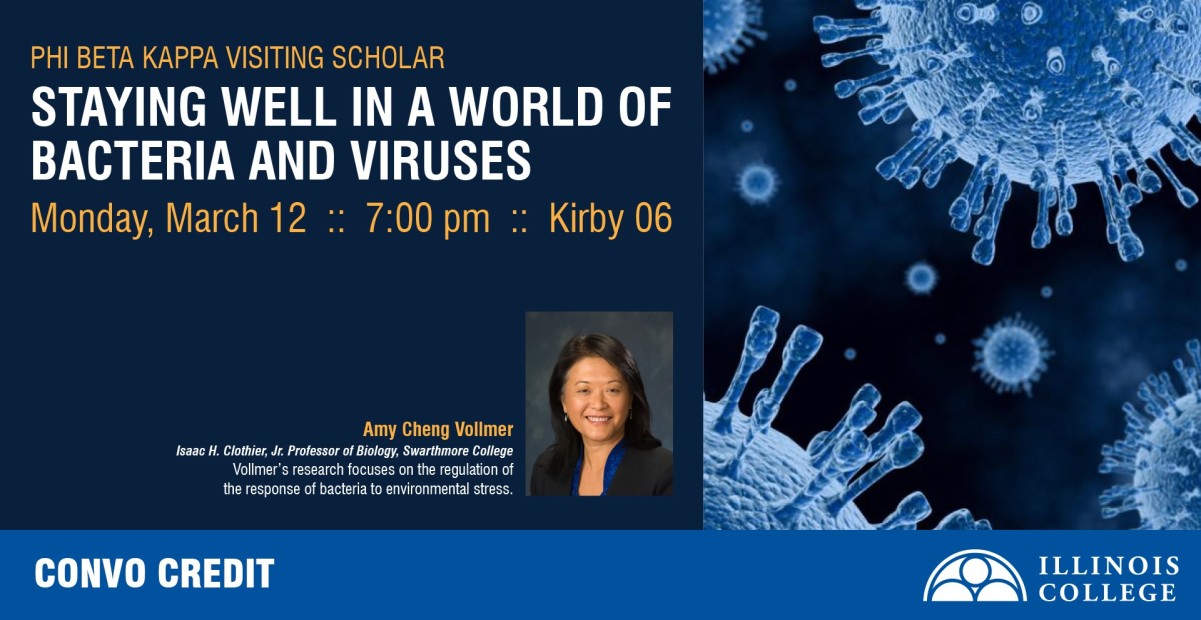 JACKSONVILLE, lll. - On Monday, March 12, Amy Cheng Vollmer, Isaac H. Clothier, Jr. Professor of Biology at Swarthmore College, will present her work on campus in a talk entitled, "Staying Well in a World of Bacteria and Viruses." 
The presentation, which is free and open to the public, will be held at 7:00 p.m., in Kirby Learning Center, room 6.  
Volmer is presenting at the college as part of the Phi Beta Kappa Society's Visiting Scholar Program. She has helped to create initiatives to promote adult science literacy as well as to increase access to and success in STEM fields for a diverse student population. Her teaching incorporates active learning in large and small classes, and includes microbiology, biotechnology, metabolism, and introductory biology. She has authored works on basic bacterial genetics and physiology and on applied and environmental microbiology. 
About Phi Beta Kappa
Since 1932, the quality of an Illinois College education has been recognized by the Phi Beta Kappa chapter on the campus. IC's chapter was the fifth of 11 chapters now authorized in Illinois, and remains one of only 262 such chapters nationwide.Founded in 1776, the Phi Beta Kappa Society is the nation's most prestigious academic honor society. It has chapters at 286 colleges and universities and more than half a million members throughout the country. Its mission is to champion education in the liberal arts and sciences, to recognize academic excellence, and to foster freedom of thought and expression.
About the Phi Beta Kappa Society's Visiting Scholar Program
Since 1956, the Phi Beta Kappa Society's Visiting Scholar Program has been offering undergraduates the opportunity to spend time with some of America's most distinguished scholars.The purpose of the program is to contribute to the intellectual life of the institution by making possible an exchange of ideas between the Visiting Scholars and the resident faculty and students. The 15 men and women participating during 2017-2018 will visit 110 colleges and universities with chapters of Phi Beta Kappa, spending two days on each campus and taking full part in the academic life of the institution. They will meet informally with students and faculty members, participate in classroom discussions and seminars, and give a lecture open to the university/college community and the general public.