In the news: IC basketball
2.01.2019
Illinois College connects from long distance two straight days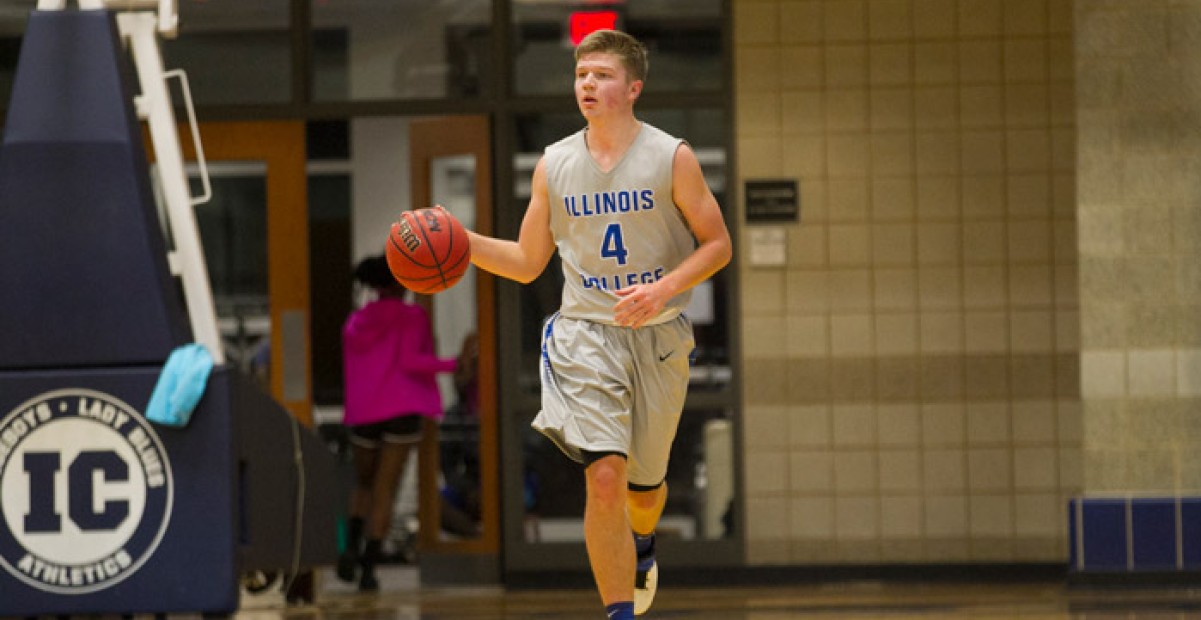 By Dave Kane, State Journal Register 
Sean McDonald '19 was feeling pretty good about himself last Friday night and a good portion of Saturday. It's not often someone hits a three-quarter-court shot at the end of the first half, which is what McDonald did for the Illinois College men's basketball team last Friday.
But his IC teammate, Mason Speer '19, got in on the monster-shot action with an even more unlikely heave less than 24 hours later. Speer's shot also closed the first half of the Saturday afternoon game, also played at IC's Sherman Gymnasium.
In the game Friday night against Lake Forest, time was running out in the first half. With not enough time to go the length of the court, McDonald took a short in-bounds pass from teammate Mike Adams '22.
McDonald, a 6-foot-6 senior from Sacred Heart-Griffin High School, took a few dribbles to get some momentum. And from the left side, roughly even with the top of the key, launched a two-handed shot that arched its way to the backboard and banked in for a buzzer-beating 3-pointer.
Lake Forest eventually took a 105-92 victory, but McDonald said it was a memorable shot.
"I let it go and I thought, 'Oh, man, it has a chance because it's right on line,'" McDonald said. "But I knew it would have to bank in if it was going to make it, and it did.
"It was crazy. Everybody was kind of shocked at first. We had to make sure it was going to count."
Hey @ESPNAssignDesk, which @BlueboysHoops half-court buzzer beater do you like better? 👀👀

Last night's against Lake Forest or today's against Beloit?#SCTop10🏀 pic.twitter.com/K4p4uBmPgA

— IC Athletics (@IC_Athletics) January 27, 2019
McDonald said he'd never made a shot approaching that length, which was roughly 75 feet.
"I've made buzzer shots, but they were 3-pointers or something like that," said McDonald, who's averaging 9.1 points a game for the Blueboys.
In the afternoon home game against Beloit the following day, IC trailed 29-26 in the final seconds of the first half and again didn't have time to go the length of the court.
McDonald got an in-bounds pass to Speer, a 6-1 senior from Danville, Iowa, as he cut from the left to the right side of the court.
Still going to his right, Speer fired a one-handed baseball throw as he was roughly even with the free-throw line. It swished through the net as time expired, tying the score 29-29 in an eventual 84-81 overtime victory for IC. 
"It was funny in the locker room at halftime," McDonald said of last Saturday's game against Beloit. "I joked to Mason, 'You always have to one-up me, don't you?' He thought it was funny."
Speer was unavailable for comment Thursday, but first-year IC coach Steve Schweer said Speer's shot almost didn't happen.
"When we got the ball, getting ready to in-bound it, it looked like Sean was getting ready to throw a long baseball pass," Schweer said. "I told him, 'Just throw it in; don't throw it long.'
"I guess Mason thought I meant for us to hold it and don't shoot it. After the shot went in, he was like, 'I proved you wrong. We would've lost if I hadn't made it.'
"We were fortunate to make both of those shots. It can really give you momentum going into halftime. We really needed (Speer's) shot against Beloit. We needed every point we could get."
Schweer, whose team was to host Knox College on Thursday night, said the odds would be stacked against the Blueboys making it a three-peat of tape-measure shots. Two straight is rare enough.
"What are the odds of that happening two days in a row?" Schweer asked. "I've never seen it happen before. I'd love to say we drew up those plays, but we didn't."
While Schweer couldn't take credit for devising plays leading to the two monster shots, he said his team doesn't ignore ultra-long-distance shots entirely.
"In our game-day shootarounds, we play a game called 30½," Schweer said. "They have to make 10 layups, 10 free throws, 10 three pointers and a halfcourt shot.
″(McDonald and Speer) were razzing me about making those shots. I said, 'If we didn't play 30½ every day, you would't have made those shots."
Schweer went out of his way to credit McDonald, the Blueboys' only varsity player from a Springfield high school, in providing leadership in a transitional year. Schweer is in his first season after Mike Worrell retired after 22 seasons.
"Sean has really been something for us this year," Schweer said. "With a new coach, everyone's role may change. But he's been a captain for us and he's really stepped up as the season's gone on.
"He's provided good leadership for us. I couldn't be happier to have someone like him on my first team here."
---
Greenleaf leads Lady Blues to win
By Staff Reports, State Journal Register 
Brielle Greenleaf '19 was 5-for-8 from 3-point range and finished with a game-high 25 points to lead Illinois College to its third straight win, a 72-62 Midwest Conference victory over Knox on Thursday night.
Greenleaf scored 18 points in the first half as the Lady Blues built a 39-33 halftime lead. IC then outscored the Prairie Fire 18-10 in the third quarter.
Greenleaf led four IC scorers in double figures. Megan Price scored 12 points; Carly Cameron had 11, and Sydney Lett added 10. Cameron and Greenleaf also had seven and six rebounds, respectively.
Jessica Lee came off the bench to score a team-high 14 points for Knox, 11-8 overall and 8-4 in the league. IC improved to 8-11 and 4-8.
For more IC athletics, visit illinoiscollegeathletics.com.