Buffalo Wild Wings partners with Illinois College to offer game-day promotions
1.17.2020
IC fans haven't missed their chance to get a taste of the College's partnership with Buffalo Wild Wings, which will return with winter and spring sports promotions.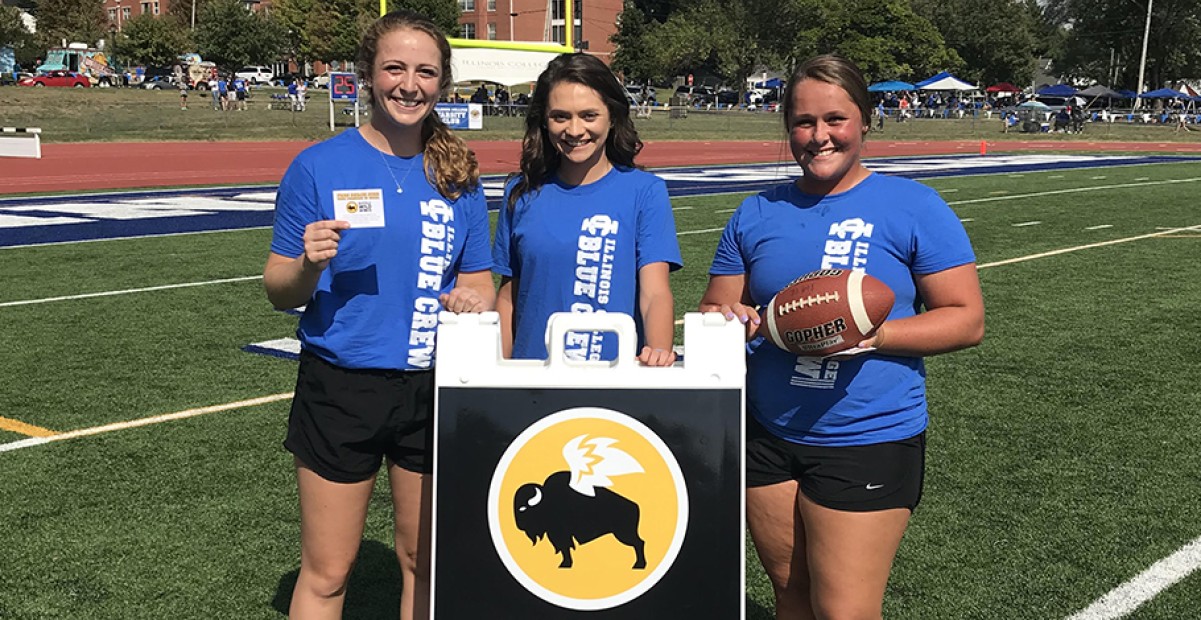 The locally owned franchise is offering promotions throughout the 2019-2020 athletic season, bringing even more students and fans out to support IC's nearly 500 student athletes. Past one-time sponsorships grew into a more formal relationship that kicked off during the fall football and volleyball seasons, owner Dustin Crews said.
Blazin' Wing Eating, field-goal kicking and punt, pass and kick contests had gift certificates and coupons on the line for participants — and sometimes all fans in attendance — at some home football games. A volleyball serving contest was also held at the Set, Serve and Rally for the Cure match against MacMurray College. Katie Carls, director of business development and campus events, plans  to bring the promotions to basketball games and other varsity sports this year. The partnership has been "such a positive addition" to IC, she added.
"It has helped increase attendance and generated a lot of excitement during our home games," Carls said. "The leadership staff at Buffalo Wild Wings has been great to work with and created some fun promotions that IC students and fans in attendance can participate in or enjoy watching from the stands. It's also been fun seeing the support from the Blue Crew as they cheer on our teams and also having the chance to participate in the Buffalo Wild Wings promotions."
The Blue Crew, a new student organization and cheering section, launched in the fall semester alongside an expanded IC Varsity Club, a similar group for alumni and fans. Blue Crew and IC Varsity Club members support Illinois College Athletics through annual membership gifts and by cheering on student-athletes during home games. The growth of these groups and new partnerships with local businesses and organizations, including Buffalo Wild Wings, has strengthened IC athletic programs. 
Buffalo Wild Wings will continue to offer promotions during basketball, baseball and softball games coming up this season. Working with IC came naturally for the Jacksonville business. Despite having a national name, Crews, who is a Triopia High School graduate, said his business has a hometown focus.
"We're a national brand that's locally owned and locally vested," Crews said. "That's why, when you look around the restaurant, you'll see the Bears, the Cubs and the Cardinals, but outside of that everything that's on the wall is local. So, with Illinois College, it just makes sense to support the folks that support you."
To learn more about partnership opportunities with Illinois College for your business or organization, contact Katie Carls at 217.245.3112 or katie.carls@ic.edu.