Igniting opportunities in engineering
Special Feature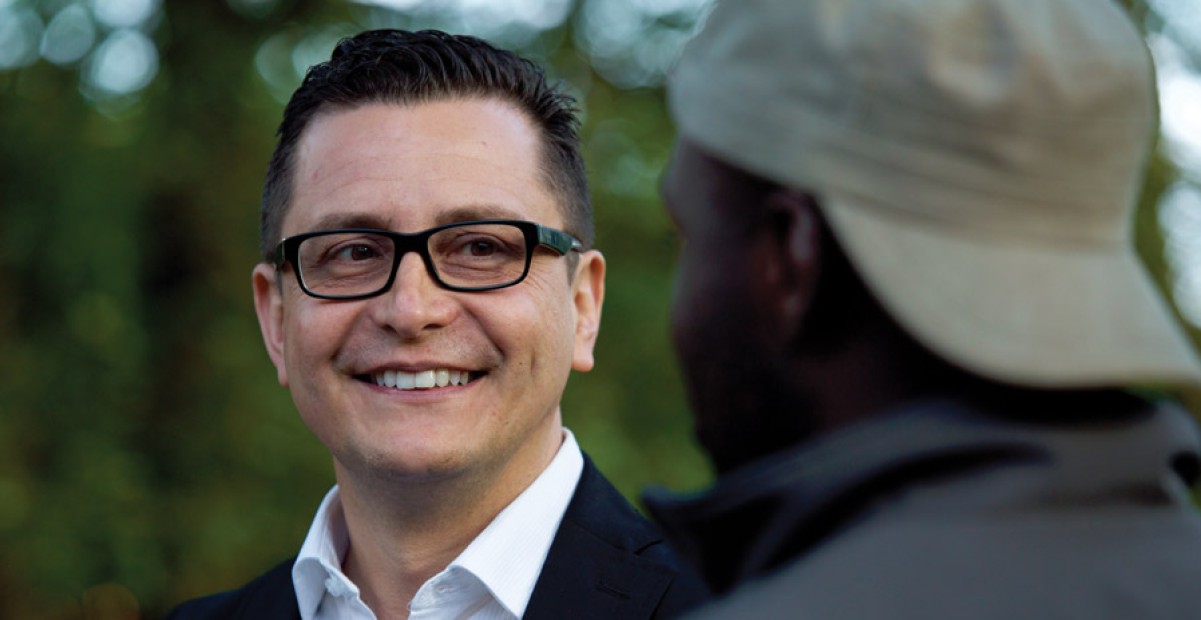 When Luiz Guimaraes '91 was a student at Illinois College, he never imagined that his education and experiences on the small campus in central Illinois would ignite an engineering career that would take him around the world.

"I was a math and engineering major. I never planned to be a senior partner in an international consulting firm," he said. "Most of it wasn't planned, but I did take advantage of the opportunities I was given." 
Today Guimaraes is part of the global leadership team for Environmental Resources Management and lives in Chicago. In his role, he helps chart the strategic direction of the 5,500-person firm and is responsible for the chemical and pharmaceutical sector. He recalls that when he started his career, the field of environmental engineering wasn't significantly established. 
"I was talking about environmental policy when few saw value in it. I embarked on an engineering and policy track that, at the time, few people understood and even fewer wanted to pursue," he explained, adding that he is thankful for his liberal arts education and the value placed on communication and collaboration. 
Guimaraes completed his engineering degree through the 3+2 path with Washington University in St. Louis. He also went on to earn an MPA in Environmental Policy from the University of Missouri-Columbia and an MBA in Finance from the University of Chicago. He said that scholarships were part of the reason he chose Illinois College — and he is quick to emphasize the role of other people in helping him on his journey. 
He recalls the impact of his professors, like Fred Pilcher, who taught physics at Illinois College for 43 years and provided extra guidance on his move to Engineering school. Those connected to the College, like the Bellatti family, and the friends he made at IC were also instrumental in helping him get to where he is today. They have influenced his desire to stay connected to his alma mater. 
"I want to help people because I greatly benefitted from the kindness and support of others," he said. "I look back at all the schools I went to and the fondest memories I have are from IC. That's where I started." 
Guimaraes was a student worker at "every job from Schewe Library to maintenance to the dining hall," played soccer, and was part of Phi Alpha literary society. He said he always found people willing to help him at IC.
"I'm not a self-made man. I enjoy success today because others invested in me," he said. "I have worked in countries that are challenging to get results. When I meet STEM students who want to make a difference, like I was 25 years ago, I tell them to take chances, embrace risks and listen to others. That philosophy has served me well."
Another IC alumnus who is breaking new ground in engineering is Josh Perko '01. He recalls a pivotal moment during his career in mechanical engineering at Caterpillar when he was asked to design a tank that could run a large mining truck on a combination of diesel and natural gas. If successful, his work would reduce the fueling cost of the vehicle and limit certain emissions, but there was little expertise in the area at the time.
Facing the challenge required Perko, a design engineer specialist, to complete extensive research and development working with a new team that was spread across multiple locations. Perko was proud that the project resulted in success — the implementation of a new dynamic gas blending kit. Not only did Perko rely on his engineering experience to get the job done, he also applied some of the lessons he learned at Illinois College.
"My IC education has set me apart from others because my strength is being good at many different aspects of my job and not just having one speciality," he said. "Having knowledge in many different subjects helps to identify interactions in both different systems and different job roles."
Perko says that a career as a mechanical engineer also requires good communication skills. He recalls those skills being emphasized in the classroom at IC. As a member of Sigma Pi, he made some lifelong friendships and developed public speaking skills acting as literary critic one semester. He also participated in service projects and says giving back is a big part of his life today.