"Becoming a Learner: Realizing the Opportunity of Education" by Matthew L. Sanders
Becoming a Learner challenges students to carefully reconsider conventional common sense about college and learning, and invites them to consider a new conversation about college and learning that focuses on who they are becoming and their ability to learn.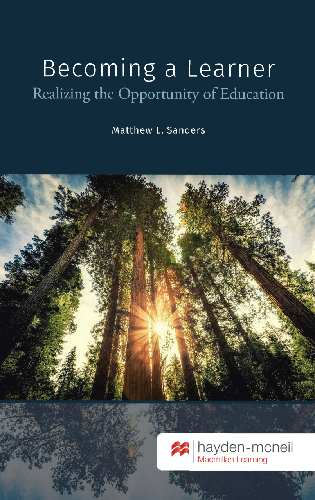 In the introduction of Becoming a Learner, Sanders writes, "The hardest thing for you to know is the thing you think you already know" (xi). Through time, the college experience has developed its own myths and legends, which inform college students and their families' expectations of what college is all about. Becoming a Learner proposes that the primary purpose of education is to become a proactive learner, and asks us to reframe the way we perceive and discuss higher education. Learning goes beyond just one career, and one way of being. Learning challenges us to bring together different perspectives, ways of thinking and ways of doing in order to be our own architects of who we want to become as a human being, scholar and professional. This book is not a step-by-step instruction manual on how to become an effective student. It is a call to meet the challenge of acquiring knowledge and getting the most from educational opportunities.
Purpose of the Summer Common Reading Program
The summer reading program is designed to introduce new students to the intellectual life of Illinois College. The goals of the program are to stimulate discussion and critical thinking surrounding topics of contemporary relevance, to enhance the connection between students, faculty and staff, and to provide a common experience.
The Assignment
All first-year students are expected to complete the reading over the summer. As they read, students will also complete a note-taking assignment to be turned into their first year seminar class. This first assignment in your First-Year Seminar is to read and take notes on Matthew L Sanders's, Becoming a Learner using the guided reading sheet. The note-taking assignment will prepare first year students to be successful in their First Year Seminar, and also help students participate in the virtual book discussions in July with the student Involvement Leaders.

Students will turn in their completed Note -Taking assignment in their First Year Seminar Course on Monday, August 29.
Useful Tips for Completing the Assignment From Our Academic Coach
Community Connection - Read with us!
All of the Involvement Leaders, First Year Seminar Mentors, and many IC student leaders, faculty, and staff across campus will read this book alongside you! They have pledged to come out to lead and participate in events related to the book. Talk to them about it in the first week of classes!