One day, double the impact. Are you #ALLIN4IC? | MARCH 15,2023
Because of people like you going ALL IN FOR IC, over the last five years hundreds of students have received scholarships. They've had aha moments in the classroom. They've put on the Blueboys or Lady Blues uniform to chase victory on the athletic field. They've been inspired.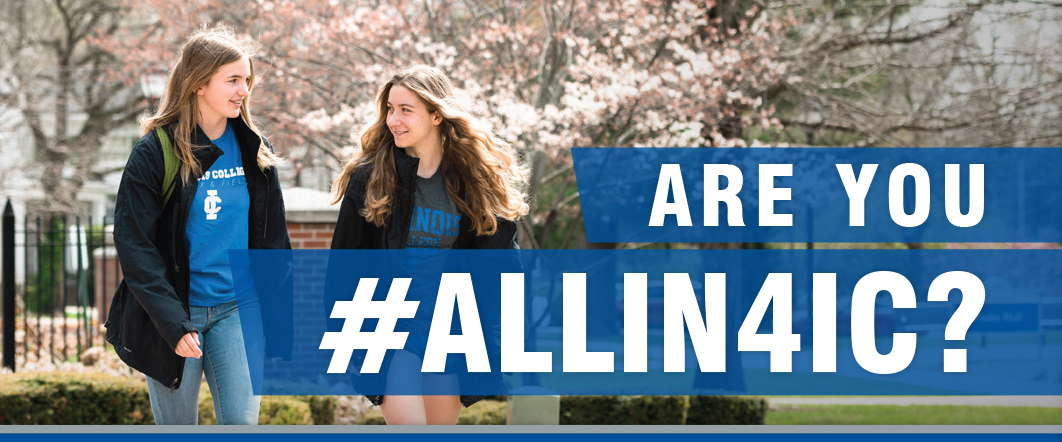 On our sixth annual day of giving on Wednesday, March 15, you can open even more doors for the next generation of Illinois College students.
Discover new opportunities to support the areas that really matter to you when you go ALL IN FOR IC in 2023. Choose from your literary society, an athletic team, the arts and music or give to the area of greatest need. And join in some fun new ways to connect with faculty, staff and students on campus.
Generous donors will again match all gifts — dollar-for-dollar — made to the IC Fund.
TO GET INVOLVED:
Follow our social media now so you don't miss details, special messages and live updates from campus.
Make your IC Fund gift on March 15 and make a major impact on the lives of IC students.
Spread the word by encouraging your friends to give, sharing our posts on social media and issuing your own challenges.
For questions about giving to Illinois College, please contact the Office of Advancement and Alumni Engagement at 217.245.3046 or development@ic.edu